Yummy Low Carb Low Fat Grilled Eggplant (Aubergine)
Rita1652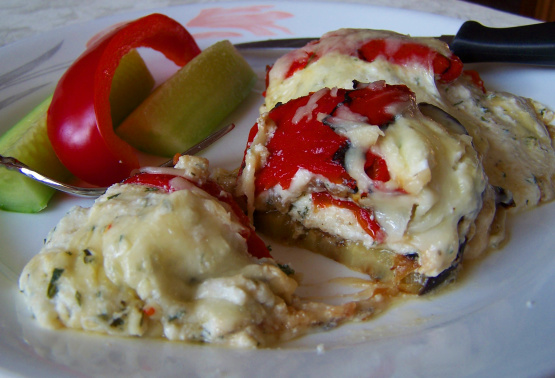 This recipe fits in with the south beach, GI and atkins diets as well as tastes delicious. Diets can make eating boring and leave you feeling hungry. After a few attempts, this made mr. nondiet love it. This was super easy to make and really a delicious treat while dieting. It also looks very "restaurant-ish" on the plate. Yummy.

35 grams of carbs and 14 grams of sugars per serving does not constitute a low carb dish.This would actually be considered a high carb dish. This dish has a high glycemic index and is inappropriate for low carb diets.
Set oven to 350 degrees.
mix the ricotta cheese in a small bowl with the pepper, granulated garlic and parsley.
Place into fridge while preparing eggplant.
Cut eggplant into 1/4 inch slices.
In a flat plate mix olive oil and garlic salt.
Then, dip eggplant slices into olive oil mixture and place on george foreman grill for 12 minutes each slice.
Place a single layer of eggplant in a greased baking dish (use pam cooking spray).
Place a spoonful of the ricotta mixture on top of eggplant, then one slice roasted pepper and another slice of eggplant on top.
You may make these three layers by repeating the procedure.
Top with a sprinkle of mozerella cheese and bake for 20 minutes at 350 degrees.
It is delicious and very simple to make!