Parsley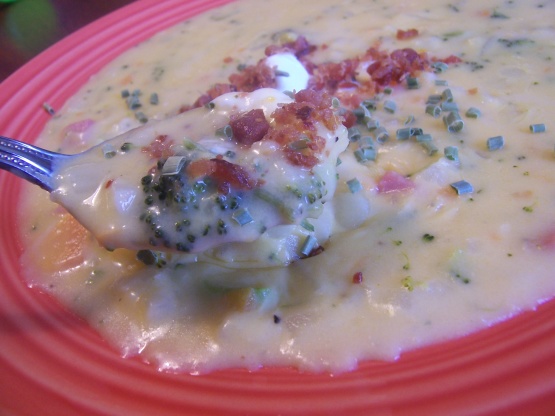 Easy to make because it uses frozen cubed hash browns. Can be made meatless.

This is a great tasting, hearty soup that was a huge hit at deer camp. Everyone (including my wife) wanted more and the recipe to boot. I add 8 oz of diced ham and 1/2 tsp salt with the cheese to top it off. This recipe is definately a keeper and a family favorite!
In a large soup pot, melt butter. Add onions, carrots, garlic, broccoli and parsley; saute for about 5-7 minutes or until softened.
Add the broth, hash browns, paprika, pepper, and celery salt.
Bring to boil.
Reduce heat to low and simmer for about 20 minutes or until everything is soft.
In a separate saucepan, melt the 6 tbsp butter. Stir in the flour and stir constantly while cooking for 3 minutes. Stir this into the soup.
Add the milk and cheese to soup.
Cook and stir soup mixture until heated through and thickened. Add salt to taste.
Stir in optional ham or bacon; if using it.