awalde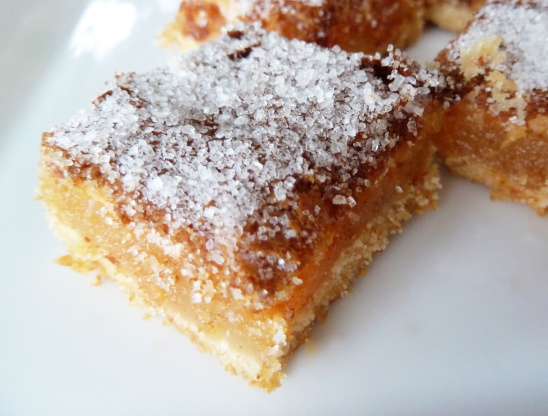 YUMMY!! This recipe is very easy to do. Make sure you do it right or it won't taste right.

Top Review by awalde
This is really easy and fast to prepare.
My bars turned light brown perhaps as I'm using a convection oven. In any case they are really delicious!
The suggestion to use more lemon juice is not bad, next time I would problay add also some grated lemon zest.
Thanks a lot for your recipe. Done for P-A-R-T-Y 2011
Sift together flour and powdered sugar.
Cut in butter.
Press in bottom of 13 x 9 x 2 inch pan.
In different bowl beat together eggs.
Mix by hand remaining ingredients.
Pour over.
Bake 20 to 25 minutes or until light brown on 350°F.
Sprinkle some 10x sugar over the finished bars (optional).