CoffeeB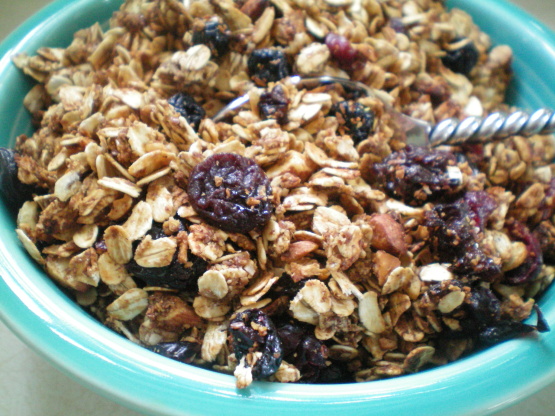 I had been using a basic granola recipe for a while but just realized that I altered it so much it had become a different recipe all together, so here it is! Great with Frozen Ban-Ola! and Yogurt & Granola Fruit Salad

This recipe is genius! The applesauce gives this granola a really nice consistency. I keep the snack tubs of applesauce on hand to use in recipes like this. Because I am trying to remove sugar from my diet, I used 1 packet of stevia instead of the brown sugar, and it was sweet enough for me with the applesauce and honey. This has all my favorite things in it. Thank you Motivated Mama for a great granola; especially good in parfaits. Next time I may use maple syrup or agave syrup instead of honey. p.s. watch carefully, as it burns easily/I lowered the heat to 300 after 10 minutes.
Preheat oven to 350.
Put oats in a microwaveable bowl and cook for two minutes, stirring after one. (This warms the oats helping to melt all the ingredients together).
Add remaining ingredients, except the dried fruit, and stir until very well blended.
Pour mixture into two large oven safe dishes and bake for 20 minutes, stirring every five.
Add dried fruit.
Spread on wax paper to cool.