Yummy Hamburger Casserole
Sally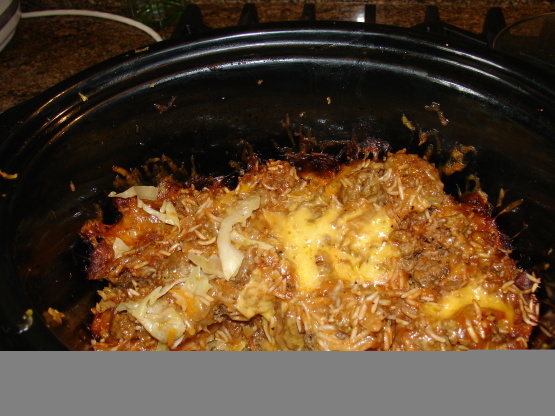 This is my favorite hamburger casserole. I like to serve it over the top of garlic mashed potatoes. Don't let it's unusual ingredients stop you from trying this--it is wonderful!

Top Review by KeyWee
This was easy & delicious!! It did seem weird to use coleslaw mix, but that's exactly what I did - one bag Dole Classic Coleslaw. I had a shredded cheese blend on hand so I used that. DH went for seconds!! The only thing I had to change was the casserole dish size. Couldn't fit all this good stuff in a 2-quart, so had to use a 3. This one goes in my "keeper" book for busy-night suppers. Thanks - MG!!
Preheat oven to 400 degrees.
Brown beef and onion in a large skillet; drain.
Add beef back to skillet and stir in rice, salt pepper, soup and water; mix well.
Place coleslaw mix in an ungreased 2 quart casserole dish.
Spoon beef mixture over coleslaw.
Cover and bake about 45 minutes.
Uncover, top with cheese and pop back in oven for another 10 minutes uncovered or until cheese is melted and casserole is hot and bubbly.