PaulaG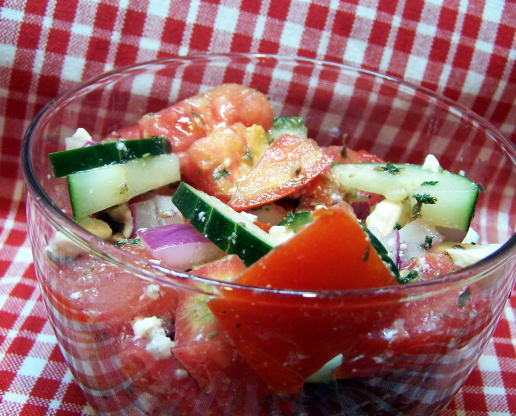 This is the perfect dish to make during the summer when the produce is really lovely. This salad makes a great side for just about any main dish. The dressing is so tasty, make sure you have extra bread to dip into it.

Top Review by jan007
Yes it is YUMMY, I've had simular in restaurants but never could quite duplicate, your's came very close. I didn't want to cook (tempature today was 106')anything so tripled it. Everyone enjoyed and my daughter took it to work the next day. Thank you for sharing this.
Cut up veggies, add cheese and pour dressing over the top!
Let the salad sit for 20 minutes before serving so flavors can combine.
You can also add Kalamata olives.
Serve with great bread and a glass of wine.