Lainey39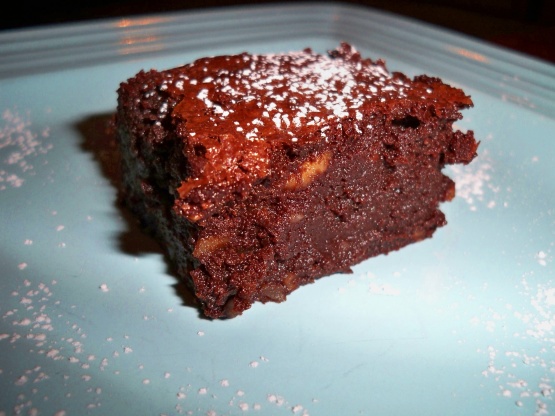 A ridiculously easy and quick to make cake-perfect every time! Everybody I have given this to loves it and crazes me for more-in fact I can't get through the door of my in-laws house without bringing them some! This is a no flour recipe so perfect for coeliacs.
Grease and line a 19cm square cake pan.
In a large bowl combine cocoa powder and hot water until smooth.
Add melted chocolate, melted butter, sugar and almonds.
Stir well to combine.
Separate the eggs.
Stir in the egg yolks, one at a time.
Whip egg whites until they stand in soft peaks.
Fold the whites into the chocolate mixture.
Pour into cake pan.
Cook in a moderate oven for approx 1 1/4 hours.
When cooked and cooled, cut into squares and dust with icing sugar. This is quite rich, so only cut small squares.
N.B This freezes beautifully.