Prep 15 mins
Cook 20 mins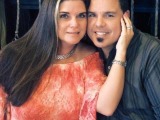 I have only made these muffins with raspberries, but you could use apples, peaches, blueberries, etc. Make sure to use regular sour cream, not low-fat or non-fat as it really does make all the difference in the taste.
Directions
Preheat oven to 400 degrees.
Grease 12 muffin cups.
In food processor, combine the sugar, egg, sour cream, and oil.
Pulse until well blended.
In a separate bowl, combine flour, soda, and salt.
Add to the food processor and pulse just to blend.
Fold in fruit.
Spoon mixture into the muffin cups, filling them 3/4 full.
Bake for 20 minutes or until a tester inserted in the center comes out clean.
Most Helpful
These were great! I used FF sour cream and for half of the flour, I used whole wheat flour. I put in about 1.5 cups of those frozen mixed berries from Costco. Yummy!
These muffins were amazing! I took some to work and they loved them. I came home and only two out of 10 muffins were left and the kids were fighting over who would eat the last two for breakfast. A guest ate some and asked for the recipe right away. They are just great! The only thing I did was added one small container of sugarless applesauce and 2 cups of blueberries which I left whole and did not chop. The kids are asking me to make more for tomorrow. :-)

Thank you Juenessa!
I am all about more fruit, so I used 1 1/2 cup blackberries. Next time I make these I will use 2 cups fruit. I only had low fat sour cream on hand and let me tell you they still tasted great. I will try them again with regular sour cream. This made 12 large muffins and 9 mini's but that might be because of the extra fruit. These were so good, they are added to the vault! Thanks Juenessa for a great recipe we will make again and again.