teresas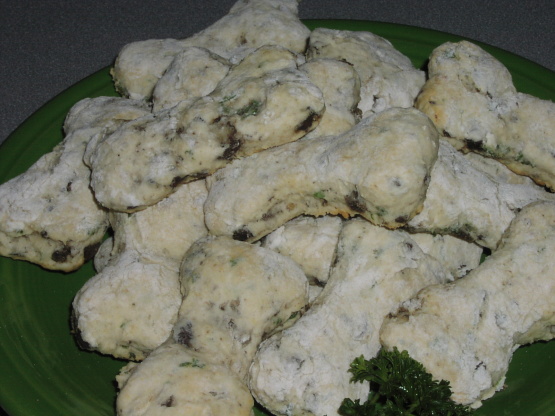 I don't remember where this recipe came from but your dog is going to love it.

it didn't say what to do with the chicken stock so I boiled the liver in the stock, I also added in some garlic powder to the stock, I made these for my 7 month old British Bulldog and he loved them, thank you for this great doggie treat Dorit!
Chopped Liver:.
Boil liver until it look gray and rubbery.
(You can microwave it on high for approximately 8 minutes.).
Chop into small pieces.
Store in airtight containers in fridge.
Scones:.
Sift flour into bowl and cut in butter.
Add chopped liver.
Stir in milk and enough water to make a sticky dough.
Turn dough onto floured surface.
Knead quickly and lightly until dough is smooth.
Press dough out evenly to about 2 cm (3/4 inch) and cut into rounds.
Place on greased cookie sheet and bake at 400 F for 15 minutes.