Demelza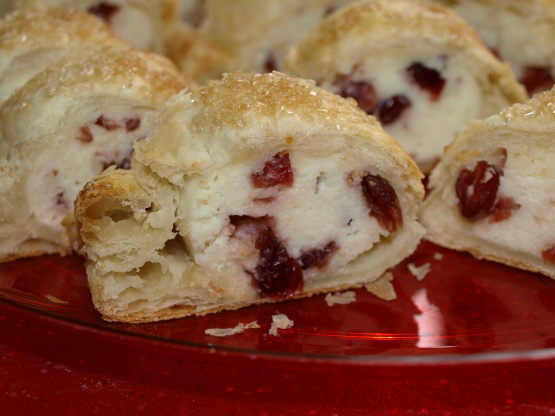 Recipe for a pastry chef machine.

Don't have a pastry chef machine, or don't know what one is, don't worry. This is a great recipe. I saw that mummy had another recipe posted using the pastry chef machine & it was for a sausage roll, so I said well this should be easy enough to do without the machine. I mixed the filling as per the directions, but I did use Craisins (dried cranberries, these were flavoured with pomegranate juice) instead of sultanas. I chopped my craisins as well, & would do so the next time I make this. I put the mixture in a pastry bag & piped it along the length of the sheet of puff pastry. I just used 1 sheet of puff pastry, & made 2 rolls, & had a narrow strip left over. I think I would make 3 rolls next time. I sealed the edge of the pastry with water, slashed the top, brushed with water & sprinkled some coarse sugar on top. I baked this at 425 for 15 minutes & it was done to perfection. I cooled the rolls on a wire rack & then sliced them. The flour in the cream cheese stops it from melting & running out of the pastry rolls. I can see lots of possiblilites for this recipe, dried blueberries or cherries, fresh squeezed orange juice or lime juice, the zest from whatever citrus fruit juice you have used in the recipe, well you get the idea. Thanks for posting this reicpe mummy. Made for PAC Spring 2011
Beat the cream cheese, lemon juice and caster.
Sugar together until smooth.
Lightly stir in the sifted flour and sultanas.
Cut a sheet of pastry in half and lay in the unit, pushing down gently to show the hollows.
Place filling in each hollow and top with remaining half of pastry.
Close the unit and cook for 8-10 minutes or until golden.
Repeat procedure with remaining ingredients.
Serve rolls hot or cold, dusted with icing sugar.