Yummy Chicken Wraps With Roasted Veggies & Pesto!
Um Safia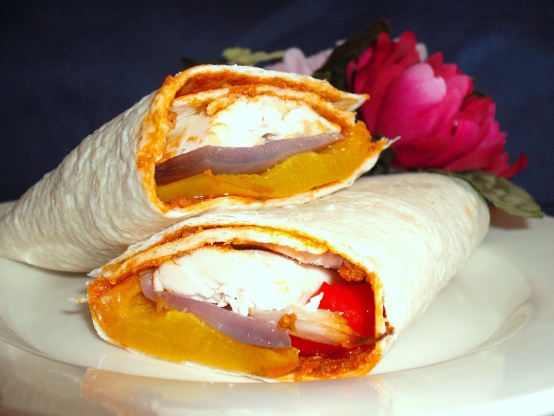 Here'a a tasty chicken wrap which is healthy & full of flavour. Kids really do enjoy these & they are great for school lunches. You can sprinkle a little sea salt over the veggies before roasting if you like. Spice the chicken up with the addition of blackened cajun seasoning.........

I loved this recipe. The vegetables were awesome! I did have to cook them for an extra 20 minutes but I like my veggies a bit brown/burnt around the edges. All the flavors in the wrap came together wonderfully. Thank you for a delicious recipe!
Pre heat the oven to 180'c / 350'f / gas 4.
Deseed the peppers and cut into quarters and half again, place on a baking sheet.
Slice the courgette length ways and cut the onions into small wedges place on the baking sheet.
Season and drizzle with the olive oil – roast for 25 to 30 mins or until tender.
Heat a griddle pan or skillet. Season the chicken and cook for 20 to 25mins or until cooked through.
Spread 1 tsp of red pesto over each wrap, place some of the roasted vegetables and chicken on each wrap and a few basil leaves, Roll the wrap up and cut in half.