CandyTX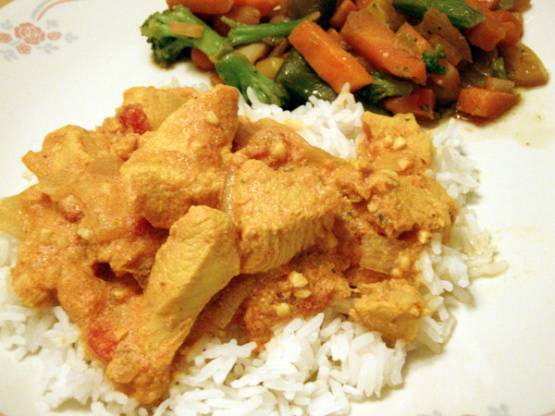 My Mom got this recipe from a friend who moved to the States from India. We always made this recipe growing up and it's still a favorite. You can control the heat by decreasing or increasing the red pepper. It is medium heat the way it is written.

I really liked this. I didn't use as much red pepper flakes as the recipe does, but did use everything else. It was wonderful. This recipe is a keeper! Thanks.
Mix together first 6 ingredients in a large bowl with a lid.
Add chicken and cover.
Place in fridge to marinate at least 3 hours- preferably over night.
In a large, deep frying pan or electric skillet, heat cooking oil on medium.
Add mustard seeds and cook until they pop (you may want to cover the pan during this).
Add tumeric, garam masala, medium onion, tomato and tomato paste.
Simmer 15 minutes, stirring occasionally.
Add the chicken and sour cream mixture.
Simmer on medium for 15 minutes.
Add 1 cup water and salt.
When mixture comes to a boil, cover and simmer on low for about 45 minutes.
Serve chicken with the lovely gravy it is in over basmati rice and poori if available.