Boomette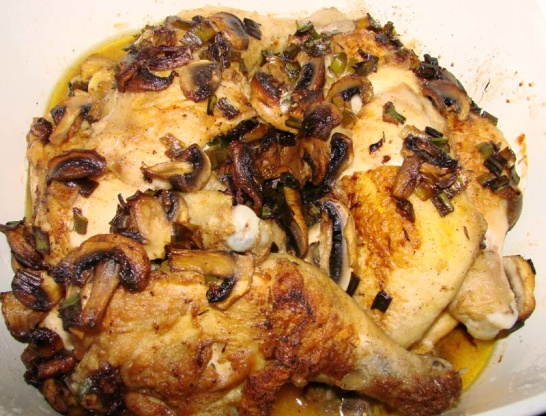 At our house, we go crazy for this dish. Serve this with garlic mashed potatoes and you'll think you've died and gone to heaven. I sometimes double the sauce... Enjoy!

This recipe lived up to its name! It was absolutely delicious and we'll make it again. Followed your suggestion about doubling the sauce and the garlic mashed potatoes. thanks!
Preheat oven to 325°F.
Mix flour, salt, pepper and thyme in a plastic bag. Shake chicken to coat well.
In a frying pan, brown chicken in butter. Remove chicken and place in a casserole dish. Add onions and mushrooms to the frying pan; cover and simmer for 3 minutes. Pour the onions, mushrooms and butter over the chicken.
Mix together the lemon juice, sugar, salt and apple juice. Pour over the chicken.
Bake for 1 hour at 325°F.