Brenda.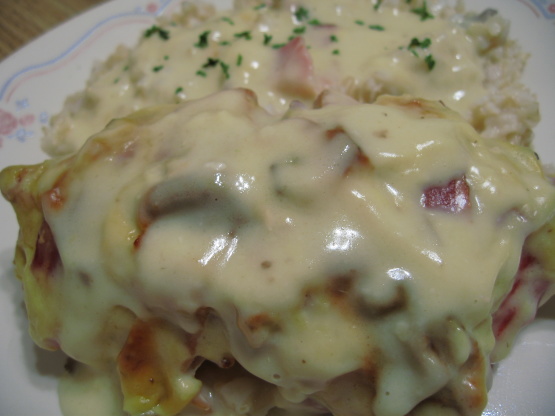 This recipe is quick and easy to prepare. I make this as written for special occasions. I make is an even quicker meal at times by adding crumbled bacon to the soup/sourcream mixture and leaving out the dried beef. I am not sure the size of the small jar of dried beef but had to put something in!

Really really good with a couple of modifications. I've made a similar recipe with the dried beef and didn't care for the combination so left that out of this recipe. With the bacon I didn't think you really needed the beef IMHO. I also thought the sauce was maybe a little bland, so I added some Provolonie to the top of the bacon before covering with the sauce. I may add some onion next time or maybe some type of hot spice to liven the up a little. I served this with rice and a side salad. Thanks. Made for "Let's Party 2011"
Mix soup, sour cream, garlic salt and pepper. Set aside.
Place chicken breasts in a greased 13" X 9" baking dish.
Place 2 pieces of dried beef on top of chicken.
Place 2 strips of bacon on top of dried beef.
Pour soup/sour cream mixture on top.
Make sure bacon and chicken are covered. Bake at 350° for 1 hour.
Serve with rice.