momaphet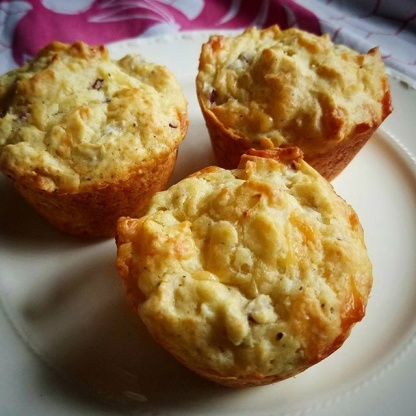 This is a modified version of an Alberta cheese recipe. I whipped these up to put in my kids' lunches. They are really tasty and super easy to make. Please note that there is 1 cup PLUS 2 tablespoons of flour. Enjoy!
These were very flavorful and moist muffins I reduced the onion a little to about 2 TBLS for a half recipe , it's still pretty dominant but good with the cheese. I might use all green onion next time . Made for Culinary Quest 4 by one of the Spice Girls.
Preheat oven to 350 °F (180 °C). Grease muffin tins or spray with nonstick cooking spray.
Combine flour, baking soda and salt in a large bowl and mix well. Stir in grated cheese.
In another big bowl, beat in eggs and whisk in seven last ingredients. Pour over dry ingredients. Stir until just moistened. Spoon into prepared muffin tins.
Bake for 15 to 20 minutes. Serve warm.