Yummy Breakfast Skillet - Food Network How Many Eggs?
diner524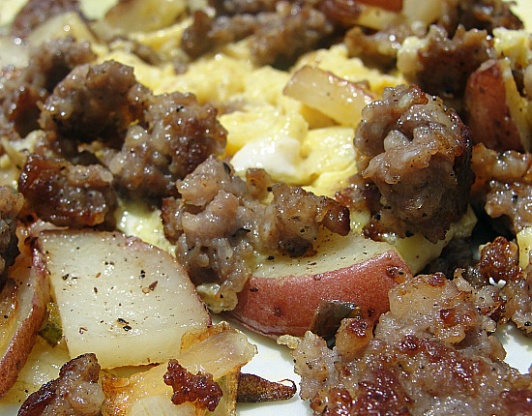 This is a GREAT breakfast dish! It is very easy and versatile. I prefer ground pork instead of the ground beef. I also add sharp cheddar cheese on top. Several times I have garnished with salsa and sour cream, very tasty! Feel free to use sausage instead of chorizo, Idaho pots instead of red, etc...just use your imagination. Next time I am adding sauteed shrooms. From Sunny Anderson on Food Network!
Excellent skillet breakfast!!! I did take liberaties and used my preferences in making this skillet. First I scaled it back for two, then used all Bob Evan's Sausage and did use the red skins and onions but added some green bell pepper. I omitted the rosemary and crushed red pepper for taste preferences and health issues. I also decided that I felt like scrambles eggs so did that with the pocket in the middle. Thank for sharing the recipe and a yummy breakfast. Made for Newest Tag.
Heat 1 tablespoon oil in a skillet to medium heat, add ground chuck and chorizo, cook until brown, breaking it up as it cooks. Season with salt and pepper, to taste.
Add potatoes, onion and 1 more tablespoon oil, if needed.
Stir to incorporate, then let cook 8 minutes, undisturbed to form golden crust. Stir potatoes, then let cook undisturbed another 8 minutes.
When potatoes are almost totally cooked through, mix in garlic, rosemary, and red pepper flakes.
Form 4 pockets in the hash to put the eggs. Add a little more oil in the pockets, if necessary, so the eggs don't stick.
Carefully pour an egg into each pocket, cover pan and turn heat to low. Cook until eggs are set to desired doneness, about 2 minutes.
Remove to a serving platter or place on individual plates and garnish with parsley.