BarbryT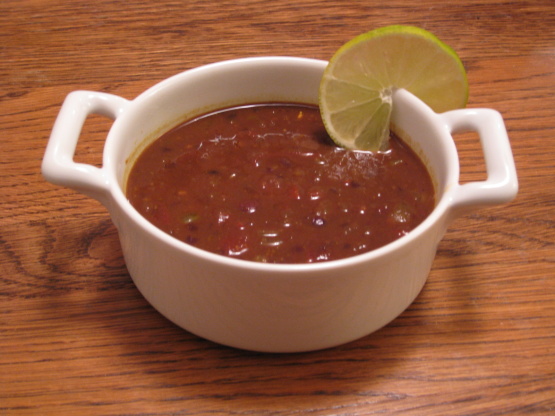 It is impossible to get black beans where I live, and on a recent visit, my mother brought 3 cans from home. I used one of the sacred cans for this recipe. I use some of my home made salsa for this, but you can use any good quality store bought if you must. Fast and easy for a week night and perfect size for dinner for two. You will need to double or triple for a family. This is also a good side for a night with tacos, burritos, etc or a Cuban pork sandwich.

It IS a yummy, and very tangy soup! Use a good balsamic vinegar, because it is a predominant taste. I might halve the amount another time, then add more bit by bit, to taste. I served with tortilla chips, which provided a nice counterpoint of salt and crunch.
Saute the onions and garlic in the oil till fragrant and the onions are transparent, about 5-7 minutes.
Add beans, stock, vinegar, salsa, spices and salt and pepper. Simmer for 30 minutes to combine flavors.
Remove about 1 cup (more if you prefer a very thick soup) of the beans and puree in the blender or food processor and add back to the soup.
Stir, and when soup is at desired thickness, serve.
Garnish with lime wedges, sour cream and cilantro as desired.