all4him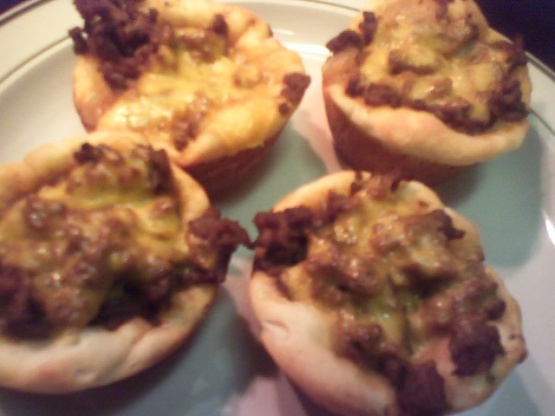 I was feeling creative while making dinner and this is what I came up with. My boyfriend loved theses. They are definitely a keeper. Feel free to get creative with this. You could change up the meat and cheeses, even switch tomato soup to cream of whatever. This can be pretty versatile. You could even make this into breakfast using eggs and bacon. Yay!

Made these little tasties up in no time & had them first thing in the morning, with a couple left over for a mid-morning snack! Used very lean ground beef, a clove of garlic & then vegetable broth instead of the beef! Turned out very well, I thought! The mid-morning snack was topped with a small amount of salsa! I don't do beef often, but will be keeping this recipe around! [Tagged, made & reviewed for one of my adoptees in the current Pick-A-Chef]
Brown meat in a skillet. While the meat is browning spray a muffin pan with non-stick spray. With your hands stretch out the biscuits so they are about 4 inches wide and push them into the muffin pan. Preheat oven to 400 degrees Fahrenheit.
Drain fat from meat. Add olive, fennel seeds, red chili flakes, garlic powder, onion, and pepper. Cook at a medium heat for 3 minutes.
Then add tomato soup, beef broth and parsley flakes. Let simmer for 6-7 minutes to reduce liquids.
Spoon meat mixture into biscuit cups and place into oven. Bake for 7 minutes then remove from oven and place cheese on top. Return to oven for 3-4 more minutes or until edges of biscuits are turning golden.