Yummy Apple Mango Cobbler
swetaweb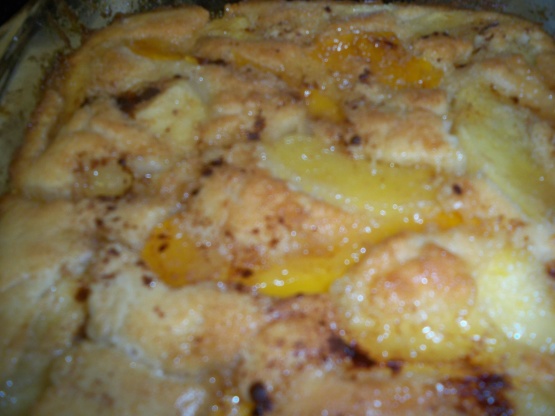 I adopted this recipe from the back of a sugar pack.The original recipe asked for peaches and no baking powder. My DH is very picky about desserts, this was his fav, Kids love it too..You can make it a day ahead.You can ad any fruit you like, serve it with whipped cream, vanilla ice cream or enjoy as is.

Fantastic! Very tasty, not too soupy, and the apple and mango combination was great! I even screwed up a bit and put in the full cup of sugar with the syrup and it turned out fine. I will be making this again!
Preheat oven to 350°F.
Combine the apples, Mango slices, 1/2 cup sugar and water in a sauce pan and mix well. Bring to boil and let it simmer for 7-8 minute.
Put the butter in 8X8 square baking dish.Place it in the oven until it melts.
Mix flour, remaining 1/2 cup sugar,baking powder and milk. Mix well.
Pour mixture over melted butter. Do not stir. Spoon fruit on top, gently pour syrup on top as well. Sprinkle with ground cinnamon.
Bake for 35-40 minute until its light brown and clean toothpick comes out clean.