Yummiest Ever Baked Mac and Cheese
Ashley Cuoco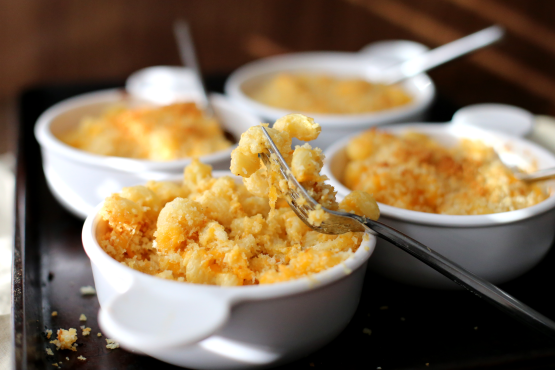 A friend brought a big pan of this to a potluck and I HAD to have the recipe to make for my family. It is so yummy and creamy that it's hard to stop eating. We like it as a main dish with a salad, but you could serve it as a scrumptious side dish. These are directions for the full batch which will serve a crowd. It halves easily.

This is best mac & cheese recipe I had ever made. I don't like the ones that are all cheddar cheese, and am usually stuck making a velveeta recipe, but never really loved that either. This is now the only mac & cheese I will make! It cooked up very casserole like, but still very gooey & cheesy - it was just great! I made half a recipe, and cut the butter and shredded cheese back a bit (maybe 3 T butter & 2 cups shredded cheese).
Preheat oven to 350.
Cook pasta according to pasta directions just until done - you don't want it mushy, because it will absorb a little of the cheesy liquid in the oven.
Combine soup, evaporated milk, butter, salt, and pepper in a large microwaveable bowl. Cover with plastic wrap, leaving a small vent, and cook for 6-7 minutes until the butter is melted and the mixture is warm-to-hot throughout. (If making a half batch, 4 minutes in the microwave should do it).
In a large baking dish (minimum 9x13, smaller if halving the recipe), spread 1/3 of the cooked noodles. Top with 1/3 of the sauce. Sprinkle with 1/3 of the cheddar.
Repeat layers twice, ending with the cheese.
Bake for 40-45 minutes.
When it comes out of the oven, sprinkle with a little dried parsley if desired. This gives it visual interest, and you can also pretend it's healthier.
Let stand for 5 minutes before serving.