Yummiest Easiest Potato Salad LOADED With Flavor!
Tudjeminka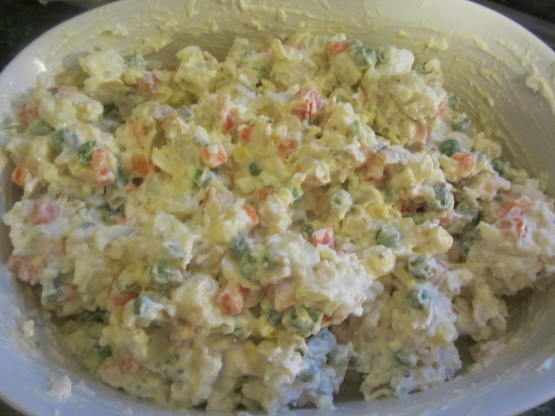 The famous potato salad taken from an old time "Russian Salad" family recipe with some american twist. ABSOLUTELY DELICIOUS!!!!! You truly cannot put your spoon down when you're eating this!
0.5

(16 ounce) bag frozen peas

0.5

(16 ounce) bag frozen carrots

0.25

(16 ounce) bag corn (personally do not like the corn added) (optional)

4

medium potatoes

2

small pickles

1 -2

chicken fillets, grilled or 4 -5 slices deli turkey
1⁄4 cup smoked cheese

1

cup mayonnaise (to taste)
1⁄4 cup whole grain Dijon mustard (to taste)

1

teaspoon salt

1

teaspoon pepper
Cook/boil peas, carrots, optional corn, potatoes, and eggs until cooked through.
Let cool.
Chop pickles, grilled chicken, turkey, and smoked cheese.
Shred cheese.
Mix all ingredients together, cover, and keep in fridge.
Add salt and pepper to taste.
**Key to this recipe is to balance the ingredients and flavors to your own taste.