Yum-O Stewed Beef in Smoky Mustard Sauce
flower7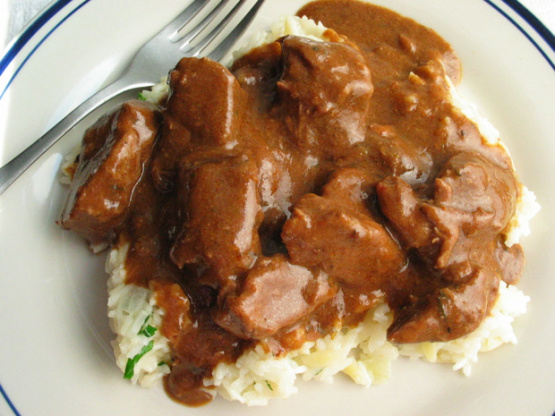 Inspired by my parents' cooking style of "working with what you got", and Rachael Ray's no fuss "measuring" I came up with this wonderful marinade/sauced beef last night. All measurements are to taste, but once you try it, it'll knock your socks off!

This was good, though I agree with the previous reviewer that it seems to be missing something. While thickening the sauce, I added a good grinding of fresh black pepper and about 1/2 tsp salt which helped some. I liked it better when serving with Recipe #36346 (which is very lemony) so maybe what it needs is a splash of something acidic. I used beef stew meat (3 lbs) and the smaller amounts of everything except the mustard and water (which I replaced with beef broth). I replaced 1/2 tsp of the paprika with hot Hungarian paprika and used half Dijon and half spicy brown mustard to add some extra heat. I marinated everything together in my crockpot's removable liner overnight. Tested after 5 hrs and decided to let it go one more hour. In the meantime, I removed about 1/2 cup of the cooking liquid and stuck it in the fridge. Once the extra hour was over I took out that cooled liquid and used it to dissolve the 3 Tbsp cornstarch that I used to thicken the sauce (I was taught if you don't dissolve cornstarch in cold liquid it won't work). Once added back to the rest of the liquid it thickened almost immediately. I don't know if I'll make this one again but it was great for something different from the usual. Thanks for sharing!
Remove all fat, gristle and silverskin from roast.
Slice into 3/4 inch 'steaks'.
Cut each steak into 3/4 inch strips, then cube strips into bite sized pieces.
In a separate bowl, combine marinade ingredients, mix well with whisk.
Add meat to marinade mixture, making sure all meat has been covered by liquid.
Cover bowl with plastic wrap, pressing wrap to touch the marinaded meat.
Refrigerate overnight.
Place meat mixture (including all liquid) in slow cooker on low for minimum of 5 hours (best done in the morning for evening dinner). Test one piece after then to see if doneness is to your liking.
Pour off sauce into separate pot and place on stove to boil, adding 3 tbsp thickening agent (equal parts flour or corn starch and cold water). Adjust to desired consistency.
Serve with rice or pasta. Don't forget your veggies!