vrvrvr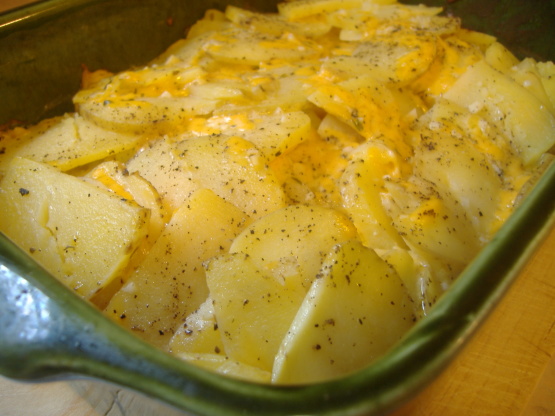 There was Gold to be found in the Yukon...now we have the Yukon Gold potato. Delicious. Try this gratin using them and you won't be disappointed.

Top Review by surus
Very very good. I used onion dip because I was out of sour cream. Did not peel the potatoes. I also used vermouth for the wine and much less butter. A bit less thyme too. Next time I will cut back on salt too. Will definitely make this again.
Heat oven to 400 degrees F. Butter a 9-inch round or oval baking dish.
Slice potatoes 1/8-inch thick and combine thoroughly in a mixing bowl with 1/2 cup cheddar cheese, the sour cream, olive oil, garlic, thyme, salt, and pepper.
Arrange potatoes in a neat overlapping pattern in the baking dish. Pour chicken broth over potatoes.
Bake 35 minutes, until potatoes are nearly-tender and the cheese and potatoes are starting to brown. Sprinkle with remaining cheese and bake another 10-15 minutes.
Garnish with thyme sprigs.