jrusk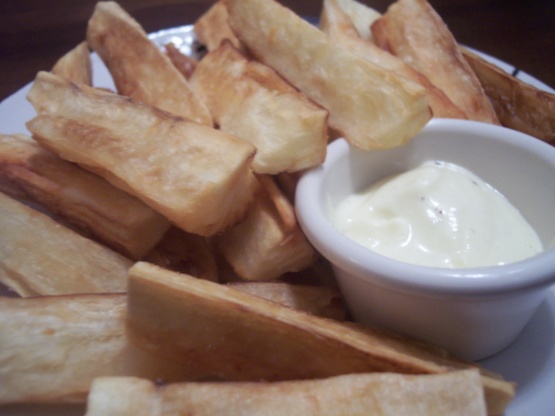 I love Yucca fries! I must have eaten a whole field full while in Costa Rica. If you are looking for something different, give yucca a try! You can also mix yucca fries with sweet potato fries (fried separately) for a great combination and beautiful plate. SERVE WITH: Cowboy Steaks With Onions Cowboy Steaks With Onions . MAKE AHEAD: The boiled yucca can be refrigerated for up to 2 days before using for this recipe.

Top Review by DGT823
I made these exactly as written, except that I didn't pull out any fibers and they were absolutely delicious. I agree with some others that they could have boiled for less time, as some were quite mushy. Still, they fried up beautifully in about 4 or 5 minutes and tasted great. Like another reviewer, I've thought about baking them, but I'm hesitant to mess with a good thing.
2

lbs yucca root, peeled and cut into 2-inch X 1/2-inch fry sticks (yucca should be firm and unblemished)
peanut oil, for deep-frying
Boil yuca in a large pot of lightly salted water for 10 minutes. Add one cup of water to the pan and return to a boil. Continue to boil for about another 5 minutes, until tender. Drain and dry completely. Pull out all stingy fibers.
In a deep-fryer or your usual stove-top pot you deep fry in, heat 2 inches of oil to 350°. Divide the yucca into 4 batches and fry until golden brown, about 2 to 4 minutes. Using a slotted spoon, carefully place the yucca on a paper towel covered plate or rack to drain. Sprinkle with sea salt and serve at once.