loof751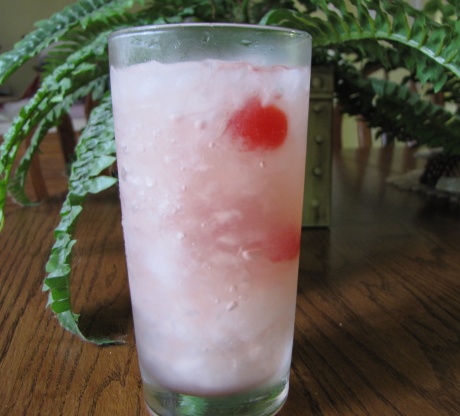 We drink this when we are camping or playing cards. It is a fruity drink that really creeps up on you, but it doesn't taste of alcohol. This recipe is over 40 years old.

Yowsa - this is a good drink - but strong! I made 1/4 of the recipe using about 16 oz of vodka. Served over lots of ice this was so refreshing, and just loved the "drunken cherries". I think it would be great to use this method with tequila and limeade, or amaretto and orange juice. Thanks for posting this recipe! Made for Spring PAC 2009
1

(1 3/4 ml) bottle vodka (the cheapest one)

1

(16 ounce) can frozen lemonade concentrate

1

cup sugar

2

(12 ounce) jars maraschino cherries (juice and all)
ice
This is best when made 8 to 10 hours ahead to let the ice melt.
Start with a 1 gallon liquid insulated drink cooler.
Combine all ingredients and mix well.
Fill the cooler to the top with ice cubes.
Shake the cooler occasionally over the next 8 to 10 hours.
Serve over ice with the spiked cherries.
Enjoy!