Your search for "Chicken Wings" returned the following match:
lets.eat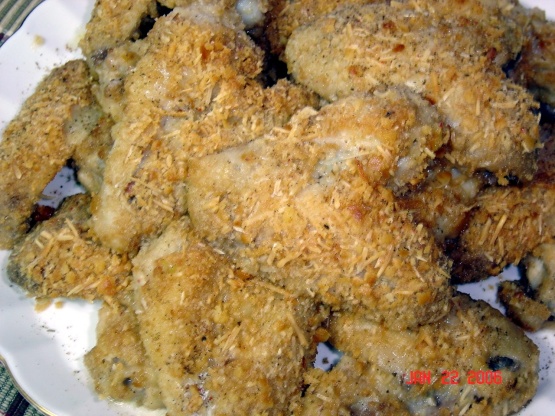 These wings were very good, but didn't brown as much as I thought they would. I used Panko instead of cracker crumbs as I didn't have any on hand. They took much longer than 30 minutes, maybe my oven. Husband really enjoyed them and he is not partial to parmesan cheese. He had no idea that it was mixed in with the breadcrumbs. I would definitely make these again.
Wash chicken wings and pat dry.
In a bowl combine the crumbled crackers or breadcrumbs, herbs and Parmesan cheese.
Add seasonings and mix well to blend.
Melt butter.
Dip chicken wings, first in melted margarine and into the crumb coating.
Arrange chicken wings in lightly oiled ovenproof baking dish.
Bake chicken wings at 375°F for about 30 minutes or until lightly brown and done.
Chicken wings should be tender.