Your Favorite Pie Filling Dessert
Nimz1466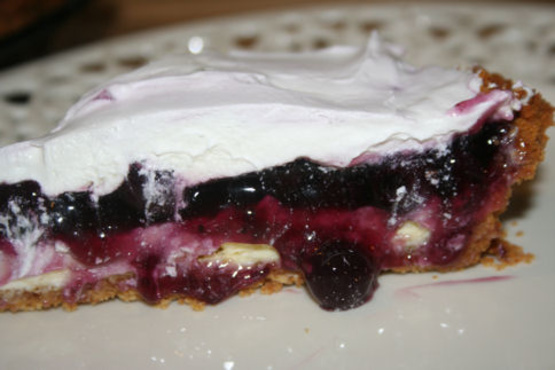 I just love this dessert,my favorite is blueberry but can use any pie filling. A friend gave this recipe years ago, and he was such a good cook.

This is just an excellent pie. So easy to put together. My DH said he didn't like blueberry pies, but he ate almost half of this in one setting. Loved the cream cheese mixture. Not to sweet, but just right. I used 1/3 less fat cream cheese, splenda and light whipped cream and it was still wonderful. Thanks so much for sharing.
Grease 9x9 inch pan, mix first three ings.and press in pan.
Beat eggs, add sugar and cream cheese,mix well and place on cracker crust-bake 20 minutes in 350 degree oven-let cool.
Mix 1 can pie filling and 1 teaspoon lemon juice-spread on top of cooled mixture.
Top with 1/2 pint whipped cream.
Chill.