Ms B.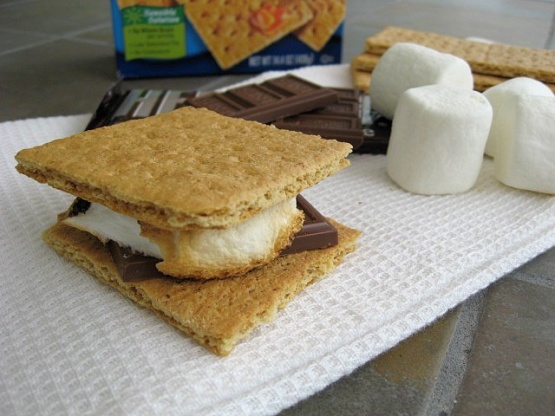 An American classic.. S'mores got their name from the phrase; "Give me Some more!" A favorite for around the camp fire.

Who hasn't made these? I first made these as a Girl Scout around the campfire and continued on when I became a Girl Scout leader. Now my girls are grown up but still enjoy making smores but this time we make them in a microwave. Mmmm...good.
Toast one marshmallow until a light golden color.
Top with 2 squares of chocolate.
Sandwich between one graham cracker, broken in half (that would be 4 separate grahams, 2 on either side of the s'more).
To toast while camping, push the marshmallow on a long stick and turn constantly over an open fire.
To toast at home, pop in a preheated oven on a cookie sheet and watch closely! (usually about 2 minutes).