Your Basic Grilled Cheese Sandwich
lazyme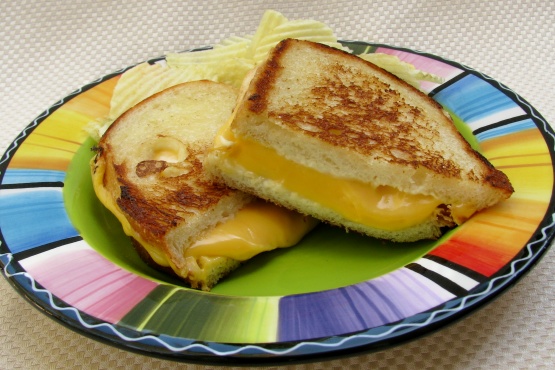 Another Basic. This is great served with soup, and easy to make variations on. You can use different kinds of cheese, or bread, possibly even add a few veggies.

Ah-hah! So THIS is how you make a perfect grilled cheese sandwich. Step #5, low heat and frequent turn, was a revelation.

Before finding these instructions, I cooked grilled cheese sandwiches on medium-high, but this method resulted in the best we have ever had. Not just homemade, not just in a diner, but ever!

Followed the instructions exactly, except added some thinly sliced fresh tomatoes. Used Italian bread.

Thank you Little Old Me!
Preheat the skillet.
Coat each side of bread with butter, inside and out.
Place pieces of cheese in the middle.
Cook on a low heat until bread is toasty and cheese is melted, flipping often.
The secret to this is cooking over a low heat, and flipping the sandwich often.