"you'll Never Miss the Noodles" Lasagna
dojemi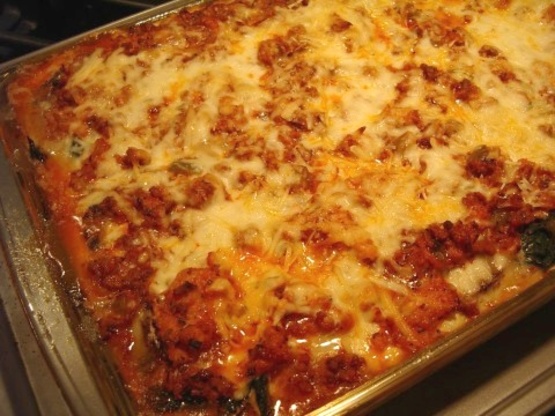 I found this recipe on a low carb site and modified it slightly to suit our tastes. We had it for dinner last night and it was AWESOME!! Very yummy and the flavor of all those fresh veggies blended beautifully with the sauce! DH went back for seconds, so this is definitely a keeper. Add a side salad and your meal is complete!

Top Review by Milla
soooo goooood. this is every low-carber's dream dinner, and no, i definitely did not miss the noodles, because everything else was so flavorful. i halfed the recipe, which seemed to work just fine, and threw in some chedder instead of parmesan, ground chicken instead of italian sausage links. wonderful, will be making again -- and often!
Brown the meat and sausage in a large frying pan.
When meat is about half done, add the onion, bell pepper, and garlic and continue cooking until the onion is transparent.
Add the tomato sauce, paste, water and seasonings; mix well.
Cover and simmer for 20 minutes, stirring occasionally.
Beat the eggs and ricotta together; season to taste with salt and pepper.
Preheat oven to 325° and spray a 9x13-inch pan with olive oil cooking spray.
Spread 1/2 of the meat mixture in the bottom of the pan.
Top with sliced zucchini.
Spread the zucchini with the ricotta mixture and top with the spinach and mushroom slices.
Top that layer with with half of the Mozzarella and Parmesan cheeses.
Cover with the remaining meat mixture and top with the remaining cheeses.
Bake at 325° until the cheese is bubbly and beginning to get golden, about 35 to 45 minutes.