You Must Make This Dressing

From the Garden of Vegan. Just do what the title tells ya! :)
Directions
Blend all ingredients in a food processor or blender until smooth.
Serve over salad, rice, pasta, etc.
Enjoy!
Reviews
Most Helpful
This is a fantastic dressing! I loved all the onions garlic and herbs in it. I used dried, instead of fresh and it still turned out great. I also cut the oil done to 4 tbs, but not really sure that does much because it just decreased the volume. (When you think about it, we all use a certain amount of salad dressing, decreasing the oil just concentrated the flavors in the oil that I did use.) Regardless, it's great!

I agree - you MUST make this dressing! I personally loved the color of it and went for an all green salad (romaine, green pepper, cucumber). The Dijon mustard gave it a nice tang and kept it from being too sweet. A nice complexity of flavors! I will definitely be making this again!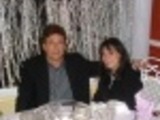 Yes this is good on our salad, but it is really good the next day on some sliced beets served with French bread. Made as written and it looked somewhat like a green goddess dressing but with a ton more flavor than green goddess dressing ever thought about having. Thanks for the post.