Jewelies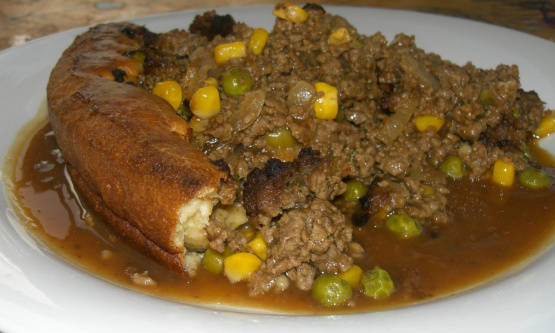 Especially for Yorkshire pudding lovers!

Top Review by Bergy
Had this for lunch with a lovely green salad, it was enjoyed by all. I made the yorkshire (eggs etc.) and put it in the fridge to get very cold while I saute'd the meat, added chopped onions, 1 can of peas & carrots and a small tin of sliced water chestnuts I slide the meat mixture into an oven proof dish and got it very hot in the oven then I poured the egg mixture over the meat and baked it in a 400f oven for 30 minutes. It came out all puffed and golden. Excellent thanks kitina I just want to add do not use a pyrex baking dish if you are adding the refrigerated Yorkshire eggmix to the hot hamburger mix, there is a good chance that the dish will crack.Use a metal pie plate or whatever that can take sudden hot with cold
In a large skillet, cook beef and onion until beef is browned; drain.
Add vegetables and 1/4 cup gravy.
Stir water and Worcestershire sauce into remaining gravy; set aside.
In a 10-inch pie plate, place butter and put into a 425°F oven.
In a small bowl combine milk and eggs, add flour salt and pepper; beat until smooth.
When butter is melted remove from the oven add the egg mixture into the hot dish.
Spoon meat mixture evenly over bottom, keeping 1 inch from the edge.
Return to oven and bake for 25-30 minutes or until browned and puffed.
Heat gravy and pass with the pie.