Yogurt-Spiced Chicken With Rice Weight Watchers
Lazarus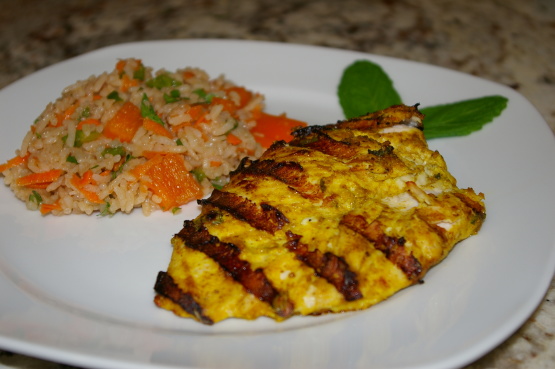 Propoints Value 9. From my colleague, Emma!

This was very nice. I thoroughly enjoyed the chicken. I marinated it for about an hour and a half and grilled it on the barbecue. I would recommend oiling the grill first, as the chicken stuck quite a bit. Nothing a lifter couldn't fix. The rice salad was excellent! I followed the directions exactly, making sure I cooled the rice immediately after it was cooked. I ended up adding a bit of salt to brighten up the flavours. Next time, I think I might also add a splash of lime juice. It was an excellent accompaniment to the chicken. All in all, a delicious, healthy meal. Follow the directions, and you can't go wrong. Thanks for posting! Made for PAC Fall 2012.
Mix the yogurt and curry powder together in a glass or plastic bowl and add the first T of chopped coriander.
Place the chicken breasts between sheets of cling film, then use a meat mallet or rolling pin to beat them out until slightly flattened. Add them to the yogurt mixture, stirring to coat. Cover, chill and leave to marinate for at least 30 minutes or overnight.
Cook the rice with the stock cube until tender. Drain and rinse with cold water to cool quickly. add the carrot, red pepper, chilli, mint and remaining T of coriander.
Grill the chicken breasts for about 6 minutes on each side until thoroughly cooked.
Serve chicken with rice salad.