Debbwl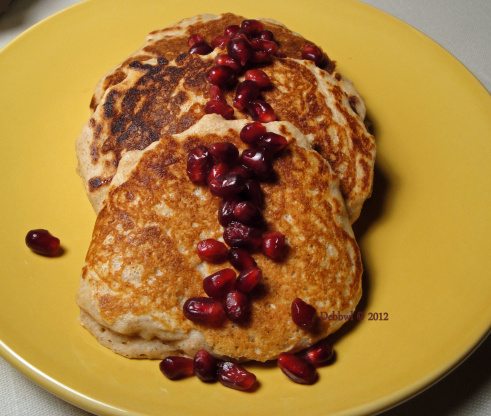 A recipe from The Comfort Food Diet cookbook of Taste of Home. I will do them for my son tomorrow morning.

Delicious! I'm glad I chose your recipe for pancakes this morning. I had a big container of NF vanilla yogurt that I wanted to use up and this was the perfect way to do it. I thought the batter seemed a little thick, but I made as directed and the pancakes came out light and flavorful. Thanks so much for posting. I'll be making these again.
In a small bowl, combine the flour, sugar, baking powder and baking soda. In another bowl, whisk the eggs, yogurt and water. Stir into dry ingredients just until moistened.
Pour batter by 1/4 cupfuls onto a hot griddle coated with cooking spray. Sprinkle with chocolate chips or cranberries if desired. Turn when bubbles form on top; cook until the second side is golden brown. Serve with bananas or pecans, if desired.
To freeze, arrange cooled pancakes in a single layer on sheet pans. Freeze overnight or until frozen. Transfer to a resealable plastic freezer bag. May be frozen for up to 2 months.
To use frozen pancakes: Place pancake on a microwave safe plate; microwave on hit for 40-50 seconds or until heated through.