Yogurt, Mint and Golden Raisin Dressing
twissis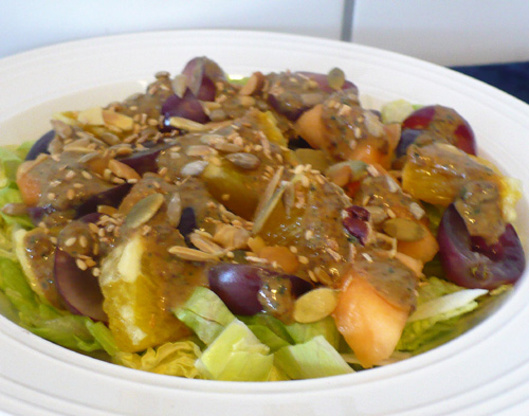 This recipe is out of Moroccan Modern Cookbook. Use tossed through green summer salds with citrus fruits and walnuts, or your own combination of sald with fruits and nuts.

Made for a fellow Goddess of ZWT-9 & I was very pleased to find this tasty, easy-fix & ingredient-friendly recipe. Icelanders seldom use salad dressing, but old habits die hard for me & I like making my own as needed. I used my stick-blender, fresh mint from my SIL's garden & plumped the raisins B4 processing. A quick taste test confirmed this will be ideal for a green salad rich w/fruit ingredients. That is on the menu plan for tonite & a 2nd pic will post tomorrow. :-) - Edited to Add: Used this dressing for a salad w/2 types of lettuce as the base of a mound of fruit including halved grapes, cantaloupe chunks & orange sections. Then I applied the dressing & sprinkled a mix of seeds & nuts bought at a health food store. Pic #2 is posted thx again for sharing your recipe.
Process the yogurt, mint, and golden raisins in a blender until smooth and creamy. Stir through the lemon juice, salt and pepper.