Yogurt, Granola and Bananas
Lalaloula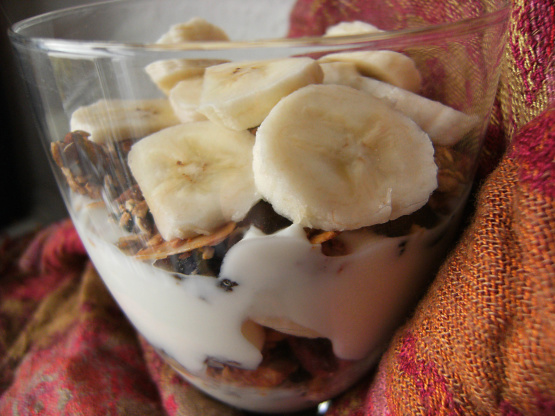 I have this guilt free dish to start the day at breakfast or or end it for dessert! You've got the smoothness from the yogurt and the crunchiness from the granola and the sweetness from the bananas and honey. This is quick and easy! You can make this with frozen yogurt as well.You can also top with some fresh ground flaxseed and or some toasted coconut for a tropical feel.

I think a good presentation makes this even possible for a dessert I'd share with guests! I did strawberry yogurt, ground flax seeds, and agave nectar. Excellent!
Place half the ingredients layering into a wine glass follow with a second layer, drizzle honey on top.
Sit back and enjoy guilt free!