Yogurt Fluff - Only 1 Weight Watchers Point!
This is a real treat if you are counting points and want something a little more fun than regular jello. You can use any flavour of jello you wish. Cherry is recommended but I actually made it with strawberry. Hubby loved it to!
Directions
In a medium bowl, stir boiling water into gelatine powder for at least 2 minutes until completely dissolved. Add enough ice cubes to cold water to measure 1 cup. Add to jello; stir until slightly thickened. Remove any unmelted ice. Add yogurt and vanilla, stir with wire whist until well blended. Pur evenly into 4 dessert dishes. Refrigerate 30 minutes or until firm. Add dollop if whipped cream before serving.
Points: 1.
Most Helpful
Perfect! I used low-fat, sugar-free vanilla yogurt and sugar-free strawberry jello. Very creamy and low calorie. Love it!
So easy, light and good! I made these in custard dishes and wrapped them up, stored them in the fridge, and grabbed one whenever I had a sweet craving. This not only filled me up, but it tasted good too. I used sugar free raspberry jello and it was delicious.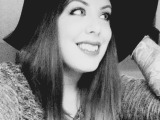 Very good. Am looking forward to making all sorts of combinations. And incorporating different flavours into desserts like parfaits. I used an electric hand mixed to wizz it together for a few minutes and it went very light and fluffy. Also looking forward to trying with a cherry or raspberry jelly and low fat/calorie chocolate yogurty dessert.