Yogurt, Cucumber and Mint Green Salad
JustJanS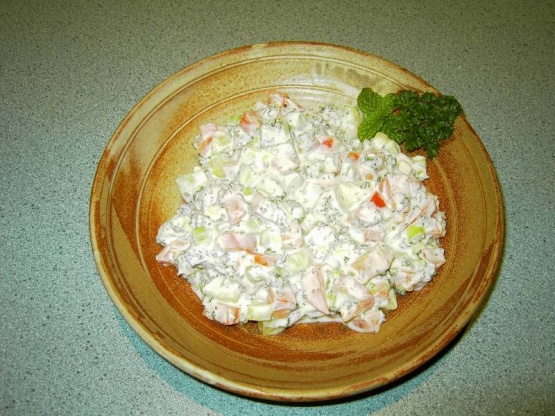 This is a great salad recipe that I picked up while shopping from the Walmart in Apopka. Its just so wonderful that I love having it as a side dish sometimes. I hope you enjoy it just as much as I do:-) Please note: Cooking time refers to refrigeration time.

This dish is perfect for hot summer weather, and it's even better the next day.
Toss together cucumbers and the tomato in a salad bowl.
Take another bowl and in this one, mix together the remaining ingredients.
Pour this mixture over the cucumber-tomato mixture.
Mix gently.
Store refrigerated for an hour and then serve cold on a hot sunny afternoon with your main course meal, OR, enjoy it by itself for brunch, OR, as a side dish!