Yogurt Chicken Lettuce Wraps
Ingy1171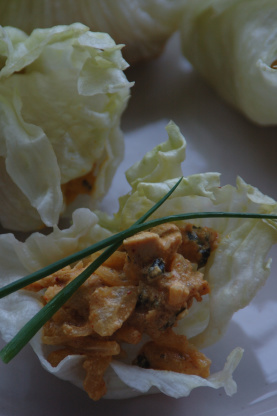 Chicken marinated in a spiced yogurt sauce and served with lettuce -- a great lunch or light dinner. These proportions are for 2, but it can easily be double, tripled, etc. (Prep time is marinating time)
Mix all ingredients except lettuce in a large bowl. Put in the refrigerator to marinate for at least an hour (longer is better).
In a large skillet, heat a dash of olive oil over medium heat.
Pour yogurt/chicken mixture into pan and cook until chicken is cooked through, and sauce has thickend and slightly evaportated (about 10 min). Add the cream and cook another 1-2 minute.
Spoon about 3 tablespoons of mixture into each lettuce leaf and wrap, securing with toothpicks if needed.