Sara 76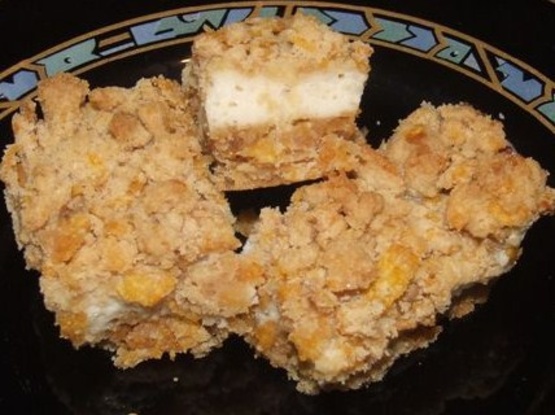 I got this from wholesometoddlerfood.com and they got it from Stoneyfield Farms Yogurt. There is lots of room for variation in this recipe. Try adding nuts or flax seed meal or chaniging the type of cereal... I really enjoy making and eating these with my daughter!

Interesting recipe. I wanted something a with a little more beef so I used Kashi Go LEAN cereal, replaced the flour with oat flour (might have to do half and half next time), and used my egg replacer as I didn't have an egg on hand. I threw in some mixed dried berries (cranberries, strawberry flavored cranberries, blueberries, and raspberry flavored cranberries). I greased up my 8" square cake pan and filled it with half the mixture. Honestly, that didn't fill my pan so I had to use more than half the mixture just to cover the bottom of the pan. I placed my yogurt mixture on top and had to sprinkle what was left of the cereal mixture on top, which was hardly anything. These bars are so thin that next time I'm gonna double the cereal part just so it feels like you are actually eating a cereal bar. I used Fiber One Kiwi Yogurt so it gave the bar a nice green color on top. My 6 yo enjoyed them, but I felt like they were missing something. Thanks for posting...I'll make again with some adjustments and maybe try a different high fiber cereal.
Preheat oven to 350.
Combine cereal, 3/4 cup flour, sugar and cinnamon in a small bowl.
Cut in butter until coarse crumbs form.
Press 1/2 the mixture firmly into the bottom of a greased 8inch square pan.
Mix yogurt, egg and 2 tablespoons flour in another small bowl. Spread over cereal mixture in pan and then sprinkle the remaining cereal mixture on top.
Bake for 30 minutes or until golden brown; cut into bars when cooled.