twissis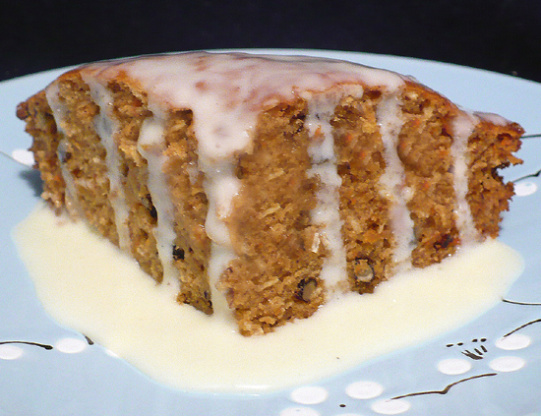 A very moist cake. This cake is delicious served with whipped cream or frost with a mixture of chevre whipped with honey and vanilla to taste. Using yogurt in baking produces a very tender, almost melting crumb. This delicious carrot cake should be allowed to ripen for 24 hours before serving. ** Maple Sugar is super sweet, twice as sweet as regular granulated sugar. It is what is made after making maple syrup. I would sub brown sugar out for it if you cannot find it. I would try mixing half white sugar and half brown sugar. Maybe even adding a little extra white.

I had a couple of problems with this recipe. I did vary it a bit. I only had a 1/4 cup of maple sugar left from my stash, so in addition, I used 3/4 cup brown sugar along with 1/4 cup of coconut oil. I expected a cake, though. The batter was the consistency of brownies. I wasn't pouring batter, I had to spoon it out. If I had been making a sweet bread or muffins this would have been fine. Also, I baked this for 30 minutes. One hour would have been way too much. To be honest, we tasted this fresh from the oven but will see how if it "ripens" tomorrow. I think I will add a vanilla icing to it also to give it some moisture and sweetness. The base recipe with a few adjustments will yield a great cake.
Preheat oven to 350°. In a bowl, cream the sugar with the butter until softened. Beat in the eggs one at a time.
In another bowl sift the flour, baking soda and cinnamon together. Add the yogurt and the flour mixture alternately to the butter mixture. Gently fold in the carrots, walnuts and coconut.
Pour into a 9x13 inch cake pan and bake for approximately one hour or until a toothpick comes out clean.