Yogurt Bran Muffins (From Fiber One)
GaylaJ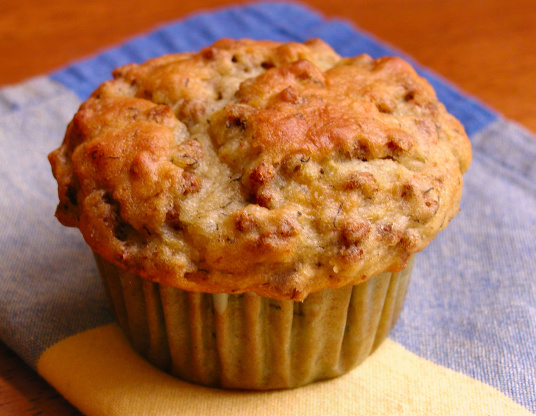 I got this recipe off the side of a Fiber One box... and it's a goodie. You can use pretty much any kind of bran cereal in it, and the addition of different types of yogurt adds subtle shadings of different flavours. I try to match the yogurt to whatever type of additional stuff that I add - 1/2 cup chopped fruit, berries, raisins, nuts, etc. (optional).

I made a few changes. I subbed applesauce for the oil, as I do with most of my baking. I used real sugar instead of Splenda. I used whole wheat flour instead of all purpose. I added a couple tablespoons strawberry preserves, a lot of raisins, and some walnuts, for flavor. The muffins were very moist and had a great texture. They are not sweet at all, but I don't care for muffins that are more like cupcakes. I think next time I would use blueberries instead of raisins, but I did quite like these. So did my toddlers.
Heat oven to 400°F.
Grease bottoms of 12 muffin molds, or use baking cups.
Crush cereal.
Stir together egg whites, oil, and yogurt.
Stir in cereal and dry ingredients (except optional additions), just until moistened.
Fold in optional additions.
Spoon batter evenly into tins.
Bake 18-20 minutes or until golden brown.