Becca A.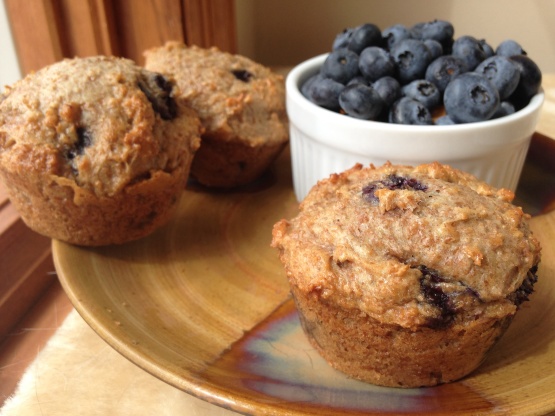 This is a recipe that I got from my friend, Gail. These are so light and fluffy. Very moist and definitely a keeper. I was wondering what they would taste like with a flavoured yogurt. Inquiry minds want to know......

Without a doubt these are the fluffiest bran muffins that I have ever made or seen anywhere for that matter. I made the full amount and making 12 regular sized muffins and 6 double sized. The smaller ones baked in 15 mins and the double's were ready at 17 mins. I used 3/4 cup of Splenda Brown and cut the oil to 3/4 cup and used fat free Greek yogurt with no problems at all. Also added 1 cup of big flame raisins. So Good! this recipe is certainly a keeper
Preheat the oven to 350 degrees.
Measure the yogurt into a large bowl and mix in baking soda.
Set aside.
This mixture will expand so it is important to use a large bowl.
In a large mixing bowl, beat together the brown sugar, eggs and oil.
Add the bran and vanilla.
Sift together the flour, baking powder and salt.
Add to the sugar mixture alternately with the yogurt.
Fold in the berries or raisins (if being added).
Pour into muffin tins (spray with a cooking spray or use liners).
Bake at 350 degrees for 15-20 minutes.
Makes 2 dozen.