mianbao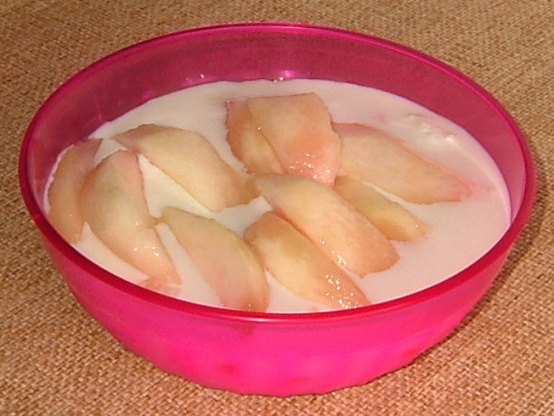 This recipe comes from my Vita-Mix cookbook. It has always worked well for me when making a low-fat yogurt for general cooking and baking.

What do you know?! This works! I put the dry milk and water (not all of the water, only about 1 1/2 cups), into a clean but not sterilized, small plastic pitcher, mixed, more according to the spirit of the directions than actually to the directions, with a stick blender, mixed in the yogurt briefly, stirred in the rest of the water and let it set about 10 hours. Then I refrigerated it overnight. The result is definitely yogurt. It is not (understandably) as rich as the whole milk yogurt I purchase. It is, however, quite acceptable. I have just had some with fresh mango for breakfast, and plan to use some of the rest in a bread recipe. BTW, I weighed the dry milk powder. 1 2/3 cups comes to 210 grams. I will probably have to find someplace warm if I want to do this in the winter, but room temperature seems right for now. Thank you very much for this very easy and successful recipe. I'd like to add. I've made this 3 times in the last month and a half, and I live alone. It can be soupy especially towards the bottom of the container, but I find this is true with commerical plain yogurt, too. The last time I made it - what's in the photos - I put it in the fridge too soon, so the next day, I warmed it by putting the pitcher in warm water and leaving it at (my very warm) room temperature. It firmed up fine the second time around. Well, as much as yogurt usually does.
With an instant read thermometer, measure the temperature of the water. It should be at 115 degrees F.
Place the water and dry milk in a blender container, turn on a run at a medium speed for 5 to 10 seconds; reduce the speed to lowest setting.
Remove the lid plug and add the yogurt, run for 5 seconds to combine thoroughly, take care not to over-mix.
Pour the mixture into 2 sterilized containers, cover with a clean cloth and place in oven with light on overnight; the mixture should maintain a temperature of 115 degrees in order to incubate properly.
The next longer the yogurt incubates the tarter the flavor. Yogurt should be thick, about the consistency of heavy cream, if liquid or watery, incubate longer.
Store the yogurt in refrigerator and it will continue to thicken as it cools.
Serve plain, add honey or fresh fruit to sweeten. This yogurt is excellent for making yogurt cheese.