Yigandes Plaki - Greek Baked Beans & Tomato Casserole
Mulligan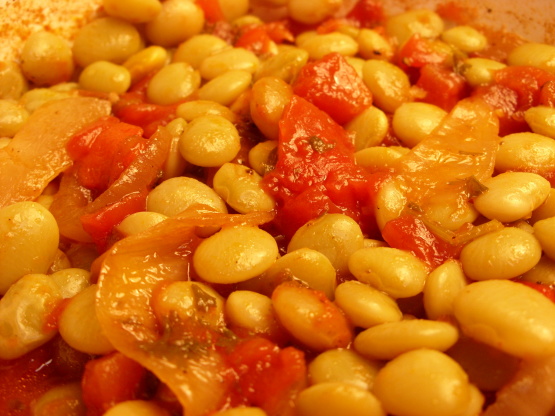 This is a traditional vegetarian Greek dish. The main ingedients are of course, the huge beans & tomato.....try to find original yigandes (gigantes, gigandes) beans at a Greek or ethnic market for this dish, otherwise use the biggest lima beans you can find. Recipe by: Nancy Gaifyllia.She says "Restaurants serve this as a meze (in small portions), but because of the quantity in which it's fixed, unless you're planning a selection of mezether for a large gathering, it works better as a main dish" Time to make doesn't include soaking time. Posted for ZWT 4

Delicious! I used canned butter beans and tomatoes, halved the oi,l and added 1 tsp. of honey and 1/2 tsp. of chili flakes. I also omitted the water, since the tomatoes seemed liquidy enough.
Add the beans to a pot with enough cold water to cover well. Bring to a boil, reduce heat and cook at a slow boil for 1 hour. Drain and set aside.
Preheat the oven to 325F (160C).
Using a wooden spoon, sauté the onion and garlic in the olive oil until soft.
Add tomatoes (if using canned, add all liquid as well), bouillon cubes, salt, pepper, parsley, and water, and allow to boil gently for 10-30 minutes, until it begins to thicken.
Place the beans in an oven-proof pan, add tomato mixture, stir and spread mixture out evenly.
Bake 1 1/2 to 2 hours, or until beans are soft. (Check the dish during cooking and if needed, add a small amount of boiling water.) The dish will look crispy on top.
Remove from the oven, cover, and allow to cool. Serve warm or at room temperature.
When using after refrigerating, allow it to come to room temperature, or heat briefly in the microwave. This dish is not served hot.