ImPat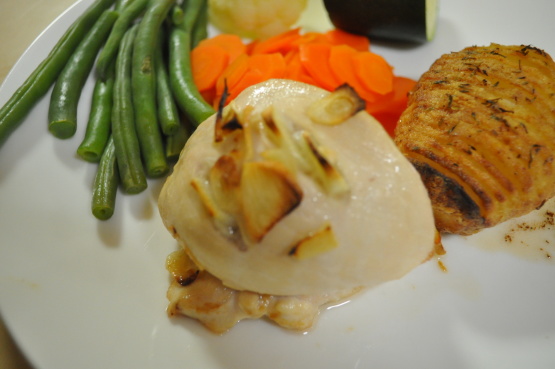 My YiaYia is a typical Greek grandmother. Her English may not be fabulous but she can say "Eat! Eat!" like an order. Her recipes are lists of ingredients scribbled in Greek that my dad translated for me. I've been making her garlic chicken since I was 12! I make it for company a lot and always pass on the recipe. My only warning is that this dish derives a lot of flavor from the olive oil. I use an imported extra-virgin Greek olive oil made from kalamata olives. Inferior supermarket oils will not taste the same.

Thanks to your Yia Yia and to you for sharing! This was a great healthy dinner tonight. I made 2 chicken breasts, so I halved the rest of the ingredients. I poured the marinade over the chicken, shoved some garlic in the slots of the breasts, and let them sit for about half an hour before baking. I have a good quality Italian EVOO that I buy at an Italian market we like, and it truly does make all the difference! I made a Horiatiki Salata (chunky Greek salad without lettuce) while the chicken was cooking in the oven, and served this with a simple mushroom couscous. I spooned a little of the juice over the couscous and the chicken, and it was heaven! Light lemon flavor, and the garlic wasn't too overpowering: just enough to make this great! This will be a new staple meal in our house!!!
Cut slits in chicken (2 or 3 per piece), place in casserole dish.
Combine oil, garlic, and lemon juice in a small bowl. Pour over chicken, making sure most of the garlic pieces stay on the chicken. Poke some down in the slits too.
Sprinkle with oregano.
Cover with foil tightly.
Bake 375 30-45 minutes, until chicken is done.
Serve with rice, spoon oil and lemon from pan over the rice.