Yet Another Version of Snapper Veracruz
Debi9400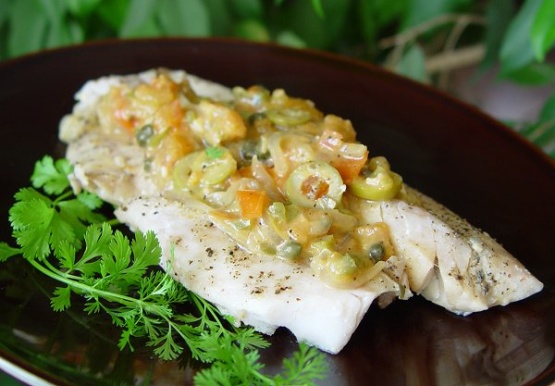 This is a famous dish from the Gulf of Mexico. It's easy and flavourful; smothered in a bold sauce of tomatoes, olives, capers & chile peppers. Serve with crusty bread, green salad and a a crisp, cold, dry white wine. Found this years ago in magazine. **you can make with any white fish fillet Update June15/07 - I just made this again and I think I like it better using just a wee bit more wine. Little more than 1/3 of a cup but not as much as a 1/2 cup seemed to pull the flavours out better and made for a nicer sauce.

Delicious, healthy, easy to make. I added a sprinkle of chopped fresh cilantro at the end. Served it with rice and black beans, and a few slices of avocado. Couldn't find any snapper at the market, but they had some nice, fresh orange roughy, so that's what I used.
Thaw fish if frozen. Cut into 6 serving size portions. Rinse and pat dry with paper towels. Sprinkle fillets with salt and pepper.
For sauce, cook onion and garlic in hot oil in a large skillet until onion is tender. Stir in tomato, olives, wine, capers, jalapeño peppers and bay leaf.
Bring to a boil. Add fillets to skillet; return to boiling. Reduce heat and simmer, covered, for 10 minutes or until fish flakes easily with a fork.
Use a slotted spoon to carefully transfer the fish from skillet to a serving platter. Cover and keep warm.
Boil sauce in skillet for 5 to 6 minutes or until reduced to about 2 cups, stirring occasionally. Remove bay leaf.
Spoon sauce over fish.