Yes! This is a Potatoes, Eggs, Leeks & Cheese Casserole
Annacia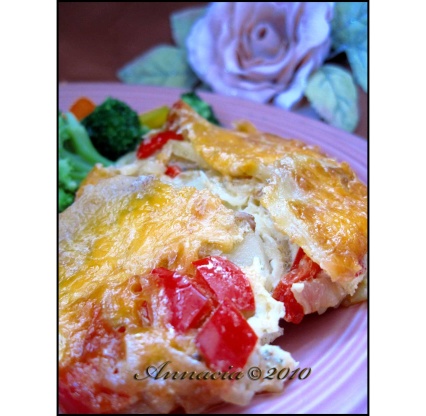 Here is one of many potato dishes that we enjoy. I created this dish quite awhile ago and it always pleases the taste buds. This casserole is very quick and easy to make, with dynamite results. The tasty potatoes are flavorful, tender and very delicious. You won't be sorry you tried this dish, there are never any leftovers.

Made this wonderfully unusual casserole to share at a neighborhood get-together & it was one of the first to disappear! Everyone loved the combo of flavors & I even had to come back to print out several copies of the recipe! Great hit of a recipe & definitely a keeper! Thanks for sharing it! [Made & reviewed in 1-2-3 Hits recipe tag]
2 -3

tablespoons butter

1

garlic clove, minced

1

large shallot, French, minced

1

large leek, thinly sliced

1

small sweet onion, chopped
1⁄2 large sweet red pepper, thinly sliced

4

ounces cream cheese, garlic, room temperature
2 1⁄2 teaspoons coarse sea salt
1⁄2 teaspoon ground black pepper
1⁄4 teaspoon ground nutmeg
1⁄2 teaspoon thyme
1⁄2 teaspoon oregano
1⁄3 cup milk
1⁄3 cup heavy cream

2

large eggs

1

lb yukon gold potato, peeled, very thinly sliced
1⁄2 cup provolone cheese, grated
1⁄4 cup cheddar cheese, grated
Preheat oven to 350 degrees.
Butter a baking dish and set aside until needed.
Melt 3 tablespoons of butter in a large skillet over medium heat and add the garlic, shallots, leeks, sweet onion and red pepper.
Saute the vegetables for a few minutes until tender then transfer to a large bowl, until they are needed.
In a processor or blender, combine the cream cheese, salt, pepper, nutmeg, thyme and oregano, make sure to mix well.
Next slowly add the milk, cream and eggs to the cream cheese mixture making sure to blend really well.
Add the potatoes to the leek mixture coat well and pour into the prepared baking dish.
Next pour the milk, egg and cream cheese mixture over the potatoes and sprinkle the cheddar and provolone cheeses on top of the potatoes.
If necessary to prevent burning cover the potatoes with tinfoil.
Before removing from the oven check that the potatoes are tender, oven temperatures can often vary.
Bake for 1 – 1½ hours in a 350 oven.