jass1202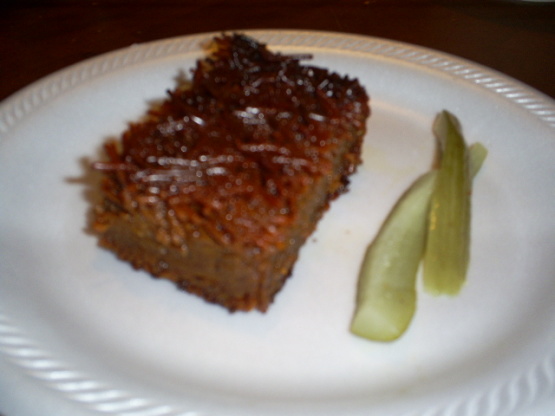 Deliciously sweet and incredibly spicy, this kugel is easy-to-make authentic Jewish soul food
Perfect, authentic. Just like my mother's friend (from an old, Chassidic family from Jerusalem) made for us growing up. You get the best flavor if you caramelize the sugar until it is a moment before burnt. This is not your typical noodle kugel, but something special.
Cook egg noodles according to package directions. Strain and set aside to cool.
In a small 1 quart saucepan, dissolve the sugar and oil over low heat. Cook until sugar turns medium brown, stirring occasionally. (this should take about 20 minutes).
Immediately pour carmelized sugar over cooled noodles, and stir with woden spoon to separate lumps (some will remain and this is okay, ugar will remelt during baking).
Let cool to room temperature so as not to cook eggs.
Mix eggs with salt and pepper and add to nodle miter. Mix well.
Pour into 9x13 pan. Bake in oven set to 350 degres for 1 hour.