Yep, It's Spicy Glazed Chicken
teresas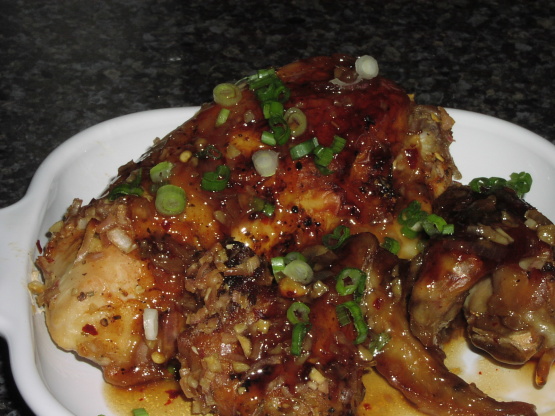 The flavors in this quick and easy dish are excellent. I recently tried a similar dish, here on Zaar, which we enjoyed very much. It spurred me to try my own favorite seasonings on this lovely glazed chicken. You will be pleasantly surprised, this dish is definitely company worthy.

Top Review by ImPat
O'kay I quartered a large chicken a roasted it taking 35 minutes for the marylands (thigh and leg/drumstick intact) and the breast took just over 45 minutes (both cooked to 82C. Now my quandarry came in here in that the chi9cken was cooked was it going to end up too dry with a second roast! I proceeded with the recipe but for dietary reasons in the sauce subbed spring onion for the shallots and for what I had in the pantry used cornflour/cornstarch for the potato flour (used about 5 teaspoons mixed with water and added in step 5 to get a nice thick sauce to spoon over the roast chicken), Put into a 160C fan forceed oven intending to cook for 30 to 25 minutes but DH got caught up in traffic due to an accident (not him though) so had to cook for another 15 to 20 minutes so turned oven down to about 140C and the chicken was moist and I spoon some of the juices in the bottom of the pan over the chicken and the rice for those that did not have there chicken served over it (personal choice). Next time though I will up the chilli flakes (kept it lower this time for the DM) but even with the way she gobbled it up I think I could up it and it would suit others in the family just that little bit better. Thank you Baby Kato, made for ZAAR Cookbook Tag.
1

chicken, roasted (whole or pieces)
1⁄2-3⁄4 cup honey, liquid wildflower
1⁄2 cup sherry wine, good quality

1

tablespoon lemon juice, meyer

1

tablespoon soya sauce, dark

1

tablespoon mirin

2

tablespoons garlic chives, finely chopped

1

tablespoon garlic, finely minced

1

shallot, finely minced
1 1⁄2 teaspoons ginger, pureed, fresh
1⁄4-1⁄2 teaspoon sea salt, coarse
1⁄4-3⁄4 teaspoon red pepper flakes

1 -2

teaspoon potato flour

2

scallions, thinly sliced (garnish)

4

cups rice, cooked
Preheat oven to 350 degrees.
Place previously cooked chicken, in an oven proof dish.
Combine the honey with the sherry in pan, on low and heat for 2 - 3 minutes.
Next add the lemon juice, soya sauce and mirin to the honey mixture and blend well.
Now add the chives, garlic, shallot, ginger, salt, pepper flakes and potato flour to the honey and sherry, stirring until mixture boils and starts to thicken.
Pour the glaze over the chicken and bake uncovered in a 350 degree oven for 30 - 35 minutes.
Serve on a bed of rice.